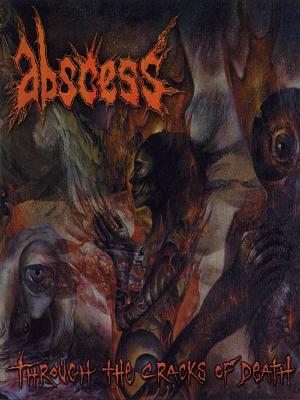 ének,gitár :
Clint Bower
gitár :
Danny Coralles
bassz :
Joe Allen
dob,ének :
Chris Reifert
Abscess was formed in Oakland, California, in June of 1994 as Autopsy, Hexx and Immortal Fate had broken up. In July they recorded a demo containing six tracks and in August came another six track demo. In January of 1995 another one with seven songs and later that year the three demo tapes were released as an album by Relapse Records.In 1996 the band recorded a new album entitled "Seminal Vampires & Maggotmen", again on Relapse. In 1997 the original member and former Autopsy member Freeway Migliore left the band. In June they recorded a 7" EP called "Throbbing Black Werebeast" through Relapse Records. On this one Chris Reifert filled in on bass.In 1998 the former Von member Joe Allen joins the band on bass to replace Freeway and in August they recorded a four track demo called "Open Wound" which led to the signing with French Listenable Records in 1999. They started to record their new album "Tormented" at Sound Temple studios but as the owner of the studio was evicted they ended up losing all the tapes.In May of 2000 the band entered the Different Fur studio in San Francisco to re-record "Tormented". The same month Joe Allen decided to leave the band and they also recorded a new two song demo with Danny handling the bass this time.In 2001 they released a split 10" with Deranged from Sweden on Listenable Records with three tracks recorded during the "Tormented" sessions. A split cd with the Spanish band Machetazo was also released on Ironia / Upground Records with two tracks from the "Open Wound" demo. Then the entire demo was released as a 7" EP on From Beyond Records.In February of 2002 their next album "Through The Cracks Of Death" was recorded for their new label Peaceville Records which also was the label for Autopsy. In May Joe Allen rejoined the band as well.
Seminal Vampires and Maggot Men (1996)
1.
Naked Freak Show
2.
Freak Fuck Fest (Naked Freak Show II: Orgy of the Gaffed)
3.
Patient Zero
4.
Zombie Ward
5.
Mud
6.
Stiff and Ditched
7.
Fatfire
8.
I Don`t Give a Fuck
9.
Burn, Die and Fucking Fry
10.
Global Doom
11.
Removing the Leech
12.
Pinworms
13.
Gonna Mow You Down
14.
Disgruntled
15.
Tunnel of Horrors
16.
Worm Sty Infection
17.
Dirty Little Brats
18.
The Scent of Shit
Tormented (2000)
1.
Rusted Blood
2.
Filth Chamber
3.
Tormented
4.
Madness and Parasites
5.
Deathscape in Flames
6.
Street Trash
7.
Halo of Disease
8.
Scratching at the Coffin
9.
Ratbag
10.
Death Runs Red
11.
Wormwind
12.
From Bleeding Skies
13.
Madhouse at the End of the World
Through the Cracks of Death (2002)
1.
Raping the Multiverse
2.
Mourners Will Burn
3.
Through the Cracks of Death
4.
Escalation of Violence
5.
Serpent of Dementia
6.
An Asylum Below
7.
Tomb of the Unknown Junkie
8.
Monolithic Damnation
9.
Die for Today
10.
Horrors
11.
Vulnavia
Damned and Mummified (2004)
1.
Through the Trash Darkly
2.
Empty Horizon
3.
Swallow the Venom
4.
Caverns of Haes
5.
The Dead are Smiling at Me
6.
Twilight Bleeds
7.
Lost for the Grave
8.
The Dream is Dead
9.
Damned and Mummified
10.
Inferno of Perverse Creation
11.
Tattoo Collector
12.
Tirade of Hallucinations
Horrorhammer (2007)
1.
Drink The Faith
2.
New Diseases
3.
Poison Messiah
4.
Another Private Hell
5.
Exterminate
6.
When Witches Burn
7.
Four Grey Walls
8.
Beneath A Blood Red Sun
9.
Horrorhammer
10.
Hellhole
11.
March of the Plague
12.
The Eternal Pyre
Dawn Of Inhumanity (2010)
1.
Goddess of Filth and Plague
2.
Torn from Tomorrow
3.
Never Sane Again
4.
Dawn of Inhumanity
5.
The Rotting Land
6.
Dead Haze
7.
What Have We Done to Ourselves?
8.
Dark Side Of A Broken Knife
9.
Divine Architect of Disaster
10.
Black Winds of Oblivion

Kedvencek közé jelölték :
[ Hibajelentés / Üzenet a profil tulajdonosnak ]

Hozzászólások :


jogyerek

2010.09.19. 16:29:41
te angol vagy?