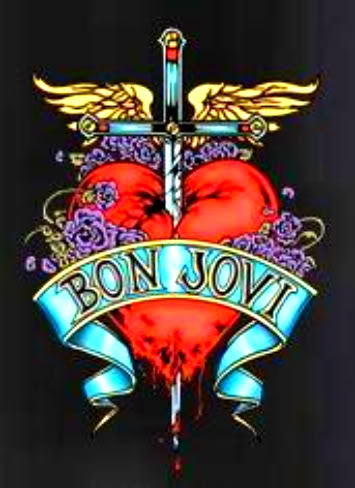 ének, gitár :
Jon Bon Jovi
gitár, vokál :
Richie Sambora
billentyűk :
Dave Bryan
basszusgitár :
Alec John Such
dobok :
Tico Torres


A Bon Jovi egy rockegyüttes New Jerseybõl, az Egyesült Államokból. A csapat – amelynek frontembere és névadója Jon Bon Jovi – az 1980-as években érte el elsõ nagy sikereit. Az elmúlt 25 év során több mint 120 millió albumot adtak el világszerte, ebbõl csak az USA-ban 34 milliót.

A Bon Jovit 1983-ban alapította Jon Bon Jovi énekes, Richie Sambora gitáros, David Bryan billentyûs, Alec John Such basszusgitáros és Tico Torres dobos. Leszámítva Alec John Such 1994-es távozását (amióta kvartettként mûködik a zenekar), az eltelt 25 évben változatlan maradt a felállás.

Két mérsékelten sikeres lemez után a zenekar nagyot robbantott a Slippery When Wet (1986) és New Jersey (1988) albumokkal, melyek együttesen 19 millió példányban keltek el csak az Államokban. A két lemezrõl nyolc slágerdal jutott a Top 10-be (köztük négy elsõ helyezéssel), és a szupersztárságig röpítették a csapatot. Az éveken át tartó folyamatos koncertezést kisebb szünet követte a New Jersey turné után 1990-ben, amikor Jon Bon Jovi és Richie Sambora is sikeres szólóalbumot jelentetett meg. A zenekar 1992-ben tért vissza a dupla-platina Keep The Faith lemezzel, és azóta platina lemezek sorát készítették el az 1990-es években és az új évezredben egyaránt.

2006-ban a Bon Jovi elnyerte a Grammy-díjat a "Legjobb country duett" kategóriában a Jennifer Nettles country-énekesnõvel közösen elõadott "Who Says You Can't Go Home" dallal, amely a Billboard magazin "Hot Country Songs" slágerlistáján is elsõ helyig jutott. Emellett a Crush, a Bounce és a Lost Highway lemezeikért többször is jelölték õket Grammy-díjra.

Eddigi karrierje során a csapat tíz stúdióalbumot adott ki, melyek közül kilenc elérte a platinalemez státuszt. 19 kislemezük került be a Top 40-be a Billboard Hot 100 listán, és ebbõl négy elérte a #1 pozíciót ("You Give Love a Bad Name", "Livin' on a Prayer", "Bad Medicine" és "I'll Be There for You"). A Billboard 200 ranglistán is a Bon Jovi tartja a rekordot a Slippery When Wet albummal, amely a hard rock lemezek közül a leghosszabb ideig tudott folyamatosan az elsõ helyen maradni. Szintén õk dicsekedhetnek a legtöbb Top 10 kislemezt adó hard rock albummal, a New Jersey album öt slágerével.
Bon Jovi (1984)
1.
Runnaway
2.
Roulette
3.
She Don`t Know Me
4.
Shot Through The Heart
5.
Love Lies
6.
Breakout
7.
Burning for Love
8.
Come Back
9.
Get Ready
7800 Degrees Fahrenheit (1985)
1.
In and Out of Love
2.
The Price Of Love
3.
Only Lonely
4.
King of the Mountain
5.
Silent Night
6.
Tokyo Road
7.
The Hardest Part Is the Night
8.
Always Run To You
9.
(I Don`t Wanna Fall) To the Fire
10.
Secret Dreams
Slippery When Wet (1986)
1.
Let It Rock
2.
You Give Love a Bad Name
3.
Livin` on a Prayer
4.
Social Disease
5.
Wanted Dead or Alive
6.
Raise Your Hands
7.
Without Love
8.
I`d Die for You
9.
Never Say Goodbye
10.
Wild in the Streets
New Jersey (1988)
1.
Lay Your Hands on me
2.
Born to Be My Baby
3.
Bad Madicine
4.
Lay Your Hands on Me
5.
Bad Medicine
6.
Born to Be My Baby
7.
Living In Sin
8.
Blood on Blood
9.
Homebound Train
10.
Wild Is the Wind
11.
Ride Cowboy Ride
12.
Stick to Your Guns
13.
I`ll Be There For You
14.
99 in the Shade
15.
Love For Sale
Keep The Faith (1992)
1.
I Believe
2.
Keep the Faith
3.
I`ll Sleep When I`m Dead
4.
In These Arms
5.
Bed of Roses
6.
If I Was Your Mothe
7.
Dry County
8.
Woman in Love
9.
Fear
10.
I Want You
11.
Blame it on the Love of Rock and Roll
12.
Little Bit of Soul
13.
Save a Prayer
14.
Starting All Over Again
Cross Road (1994)
1.
Livin` on a Prayer
2.
Keep the Faith
3.
Someday I`ll Be Saturday Night
4.
Always
5.
Wanted Dead or Alive
6.
Lay Your Hands on Me
7.
You Give Love a Bad Name
8.
Bed of Roses
9.
Blaze of Glory
10.
In These Arms
11.
Bad Medicine
12.
I`ll Be There for You
13.
In and Out of Love
14.
Runaway
15.
Never Say Goodbye
These Days (1995)
1.
Hey God
2.
Something for the Pain
3.
This Ain`t a Love Song
4.
These Days
5.
Lie To Me
6.
Damned
7.
My Guitar Lies Bleeding in My Arms
8.
(It`s Hard) Letting You Go
9.
Hearts Breaking Even
10.
Something to Believe In
11.
If That`s What It Takes
12.
Diamond Ring
13.
All I Want Is Everything
14.
Bitter Wine
Crush (2000)
1.
It`s My Life
2.
Say It Isn`t So
3.
Thank You for Loving Me
4.
Two Story Town
5.
Next 100 Years
6.
Just Older
7.
Mystery Train
8.
Save the World
9.
Captain Crash & the Beauty Queen From Mars
10.
She`s a Mystery
11.
I Got The Girl
12.
One Wild Night
13.
I Could Make a Living Out of Lovin` You
14.
Neurotica
Bounce (2002)
1.
Undivided
2.
Everyday
3.
The Distance
4.
Joey
5.
Misunderstood
6.
All About Lovin` You
7.
Hook Me Up
8.
Right Side of Wrong
9.
Love Me Back to Life
10.
You Had Me From Hello
11.
Bounce
12.
Open All Night
13.
No Regrets
14.
Postcards From the Wasteland
Have A Nice Day (2005)
1.
Have a Nice Day
2.
I Want to be Loved
3.
Welcome to Wherever You Are
4.
Who Says You Can`t Go Home
5.
Last Man Standing
6.
Bells of Freedom
7.
Wildflower
8.
Last Cigarette
9.
I Am
10.
Complicated
11.
Novocaine
12.
Story of My Life
13.
Who Says You Can`t Go Home
Lost Highway (2007)
1.
Lost Highway
2.
Summertime
3.
(You Want To) Make a Memory
4.
Whole Lot of Leavin
5.
We Got It Going On
6.
Any Other Day
7.
Seat Next to You
8.
Everybody`s Broken
9.
Till We Ain`t Strangers Anymore
10.
The Last Night
11.
One Step Closer
12.
I Love This Town
The Circle (2009)
1.
We Weren`t Born to Follow
2.
When We Were Beautiful
3.
Work for the Working Man
4.
Superman Tonight
5.
Bullet
6.
Thorn in My Side
7.
Live Before You Die
8.
Brokenpromiseland
9.
Love`s the Only Rule
10.
Fast Cars
11.
Happy Now
12.
Learn to Love

Kedvencek közé jelölték : 592
[ Hibajelentés / Üzenet a profil tulajdonosnak ]