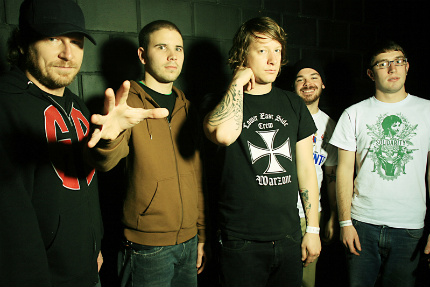 Comeback Kid (rövidítve CBK ) egy 2002-ben Winnipegben(Kanada) alakult hardcore banda, alapító tagjai Andrew Neufeld és Jeremy Hiebert, akik a Figure Four nevû zenekar tagjai, ami jelenlegi állapot szerint feloszlott 2003-ban, Comeback Kid a California hardcore label Face Down Records-hoz szerzõdött, aki a debütáló albumukat kiadta,a Turn It Around címet viseli. A 2005-ös albumuk, a Wake the Dead,már a Victory Records segítségével készült el.A Wake the Dead címû album mára több mint 100,000 kelt el világszerte. 2006-ban, a frontemberük, Scott Wade más érekeltségek miatt elhagyta a bandát és a gitárosuk, Andrew Neufeld vette át a vezetést, illetve az éneklést.Ajelenlegi felállás Andrew Neufeld (vokál), Jeremy Hiebert (gitár), Kyle Profeta (dob), és Casey Hjelmberg (gitár) .Comeback Kid 2007-ben kiadta az eddig tõlük legeltérõbb albumot, a Broadcasting-ot(Victory / Smallman). Az albumot Bill Stevenson segítségével készítették el, és az album a melódikus illetve zúzósabb elemeket ötvözi.


Kedvencek közé jelölték :

Sushi

,

Hunky

,

ReGOREgitated Sacrifice

,

Arzén

,

massemorder

,

Rofrics Úr

,

DOLLARRRRR

,

Punk Guy

,

Bálint46

,

Porcelain Whore

,

jbhc

,

Killswitch Engage

,

Sziszi_Filth

,

DarkDog

,

vendelcore

,

EliniaX

,

shutyoureyestolovetolive

,

Hitetlen

,

HardcoreChriss

,

julia carina design

,

GastrointestinalRape

,

your_creation

,

GhostInside

,

xFiorax

,

nemeranevem


[ Hibajelentés / Üzenet a profil tulajdonosnak ]


Hozzászólások :
Nincs hozzászólás.