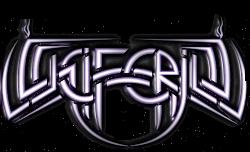 ének, gitár :
Wojtek Lisicki
gitár,ének :
Michael Nicklasson
basszugitár :
Martin Furängen
dob :
Hans Nilsson
billentyűs :
Johan Lund
The band was founded in early 93 by Michael Nicklasson (guitar), Peter Weiner (drums) and Wojtek Lisicki (guitar and vocals). Shortly after the bass player Martin Furängen joined the formation.Wojtek Lisicki ended Luciferion sometime after the release of "The Apostate." He grew unhappy with the band's name as it suggested an affiliation with Satanism. Lisicki is in reality totally opposed to all forms of religious affiliation, and says the band name was chosen when he and his bandmates had a different, more immature outlook. Material written with Luciferion in mind will possibly be used in the future for a different project.
Demonication (The Manifest) (1994)
1.
Intro
2.
On the Wings of The Emperor
3.
Graced by Fire
4.
Rebel Souls
5.
Christ Dethroned
6.
The Manifest
7.
Satan`s Gift (The Crown of Thorns)
8.
Hymns of the Immortals
9.
Blasphemer
10.
The Voyager
The Apostate (2003)
1.
Intro
2.
The Apostate
3.
Become or Be Gone
4.
Destroying by Will
5.
New World to See
6.
Circle of the Tyrants [Celtic Frost cover]
7.
Rebel Souls
8.
Hymns of Immortals
9.
Satans Gift (The Crown of Thorns)
10.
Graced by Fire
11.
The Voyager

Kedvencek közé jelölték :
[ Hibajelentés / Üzenet a profil tulajdonosnak ]


Hozzászólások :
Nincs hozzászólás.