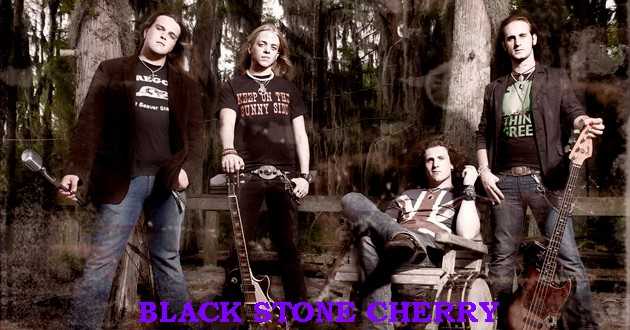 guitar and vocals :
Chris Robertson
guitar :
Ben Wells
bass guitar :
Jon Lawhon
drums :
John Fred Young
Black Stone Cherry formed in the summer of June 4, 2001 in a small town in Kentucky(Edmonton). Playing Southern hard rock, Black Stone Cherry emphasize community and local color in their songs. They are signed to Roadrunner Records. The band consists of Chris Robertson (guitar and vocals), Ben Wells (guitar), Jon Lawhon (bass guitar), and John Fred Young (drums).Surrounded by music and support in Kentucky, Black Stone Cherry was able to develop far away from the mainstream. John Fred once explained, "When you're from an area where you don't have the competition to be playing the same kind of music, you create your own style of music." Chris and John Fred started to play music together early in their teens and Jon and Ben soon followed them. Black Stone Cherry officially formed on June 4, 2001. Then they took over the practice house that had been used by the Kentucky Headhunters since 1968 and practiced relentlessly. Black Stone Cherry friend Aaron McCloud says "Their music is real, and I'm very inspired by their music and their personalities."With expanding local popularity, Black Stone Cherry began to record tracks. After the band finished recording, they returned to Edmonton for a homecoming gig in the gym of the local middle school, which was attended by 1500 people. After the band's self-titled debut album was released, Chris's former school principal invited the band back to Edmonton to celebrate with a concert. As the band entered the town, the streets were covered with signs welcoming them back.In July 2007, they released a second EP containing the song "Rain Wizard" along with two previously unreleased tracks.The first live album by Black Stone Cherry was released on October 31, 2007 immediately following the concert at the Astoria in London. They joined Def Leppard and Whitesnake in the summer of 2008 for European dates.On August 19, 2008 Black Stone Cherry released their second album, entitled "Folklore and Superstition".
Between the Devil & The Deep Blue Sea (2011)
1.
White Trash Millionaire
2.
Killing Floor
3.
In my Blood
4.
Such a Shame
5.
Won`t Let Go
6.
Blame it on the Boom Boom
7.
Like I Roll
8.
Can`t You See
9.
Let Me See You Shake
10.
Stay
11.
Change
12.
All I`m Dreamin` Of

Kedvencek közé jelölték :

mundzuk

,

Swarz

,

Bobby87

,

Kics

,

meDkeT

,

Akela Bácsi

,

D.G.

,

Vaeltava Sielu

,

Dávid Draiman

,

Diane

,

luxx

,

stormpython

,

gépkezelő

,

Nexu

,

Neurologist

,

norbidrum

,

Cseresznye:D

,

R.É.K.A.

,

the CZ

,

Neddyson

,

Bakancsos

,

endrita

,

Handwired

,

GrungeDo

,

Entri

,

Đodi

,

Matthew17

,

adlersson

,

Tibb

,

Joan

,

walhalla

,

blackhard

,

JD53

,

--Vivien--

,

Stormbringer

,

Brandon003214

,

Trasherman

,

Lorena

,

nikkisixx

,

Matth3w

,

DeadKiller


[ Hibajelentés / Üzenet a profil tulajdonosnak ]


Hozzászólások :
Nincs hozzászólás.