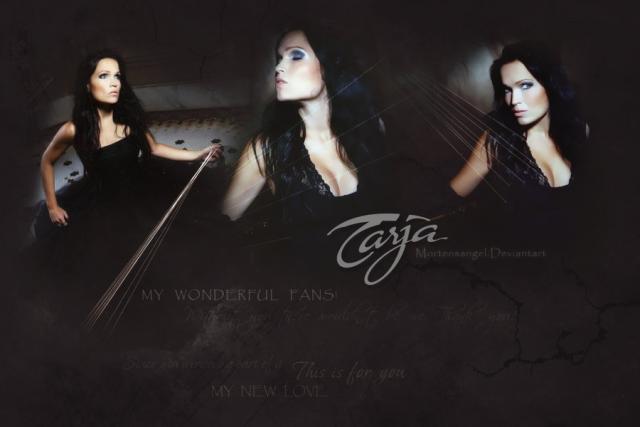 énekes :
Tarja Turunen
Bass & BV :
Doug Wimbish
Guitars :
Alex Scholpp
Drums :
Mike Terrana
Keys & BV :
Maria Ilmoniemi
Cello :
Max Lilja
Lead & BV, guitars, and electronic drums :
Toni Turunen
A Nightwish zenekarba 1996-ban, alapító tagként került, mikor osztálytársa, Tuomas Holopainen meghívta egy új zenei projekthez.2003-ban Tarja Turunen férjez ment Marcelo Cabuli argentin üzletemberhez.2005. október 21-én a Nightwish tagjai nyílt levélben szólították fel Turunent, hogy lépjen ki a zenekarból.2005 decemberében Turunen önálló karácsonyi koncertturnéra indult Finnországban, Németországban, Spanyolországban és Romániában.Tarja elsõ szólóalbuma, ami a My Winter Storm címet viseli, 2007-ben jelent meg.Tarja Turunen második nagylemeze 2010 Szept. 6-án jelenik meg.3 kislemeze pedig: Falling Awake megjelentI Feel Immortal 2010 aug. 20-án jelenik megUntil My Last Breath 2010 aug. 23- án jelenik meg.
Henkäys Ikuisuudesta (2006)
1.
Kuin henkays ikuisuutta
2.
You would have loved this
3.
Happy New Year
4.
En etsi valtaa, loistoa
5.
Happy Christmas (War is over)
6.
Varpunen Jouluaamuna
7.
Ave Maria
8.
The eyes of a child
9.
Mökit nukkuu lumiset
10.
Jo joutuu ilta
11.
Marian Poika
12.
Magnificat - Quia respexit
13.
Walking in the air
14.
Jouluyö, Juhlayö
I Walk Alone (single) (2007)
1.
I Walk Alone (single version)
2.
I Walk Alone (artist version)
3.
Ciaran`s Well
4.
The Reign
5.
I Walk Alone (the tweaker remix)
Die Alive (single) (2008)
1.
Die Alive
2.
Die Alive (alternative version)
3.
Lost Northern Star (ambience sub low mix)
4.
Calling Grace (full version)
what lies beneath (2010)
1.
Anteroom Of Death
2.
Until My Last Breath
3.
Dark Star
4.
Underneath
5.
Little Lies
6.
Rivers Of Lust
7.
In For A Kill
8.
Montañas de Silencio
9.
Falling Awake
10.
The Archive Of Lost Dreams
11.
Crimson Deep
Falling Awake (2010)
1.
Falling Awake
I Feel Immortal (2010)
1.
Naiad
2.
We Are
Until My Last Breath (2010)
1.
Until my last breath
2.
Still in the Night

Kedvencek közé jelölték : 316
[ Hibajelentés / Üzenet a profil tulajdonosnak ]


Hozzászólások :
Nincs hozzászólás.